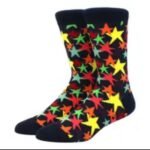 Starry Spectrum Sock
$10.00
We believe the key to feeling good is looking good, and with our socks, you'll be sure to make a statement.
Product Specifications:
Woven from soft combed cotton (80%), nylon (15%), and spandex (5%).

Our socks are one size fits all, and can fit anywhere from a men's 7.5-13.5 US or women's 5-11 US.

Machine washable. (We recommend washing inside out to protect the design and increase the longevity of your socks!)

Crew-cut style sits at the calf.

Ribbed cuff. Elastic arch support. Reinforced toe and heel.
When you choose Exec Socks, you're choosing a company that places importance upon giving to the community. With each purchase of a quarterly subscription, we donate a pair of socks to Oak City Outreach Center in Raleigh, North Carolina.
Hurry up! Flash Sale Ends Soon!
Hurry! only 20 left in stock.